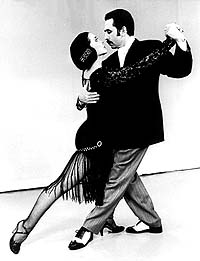 ALBERTO TOLEDANO and LOREEN ARBUS are foremost Argentine Tango performers, choreographers and teachers in the United States.


ALBERTO and LOREEN have performed in Las Vegas and on Broadway, at the 18,000 seat Hollywood Bowl and the 16,500-seat Los Angeles Sports Arena. They have toured in Argentina, Europe and throughout the United States, and were invited to perform at the oldest, most prestigious Tango Festival in Argentina. They have been selected to perform at the celebrated annual "Dance Kaleidoscope" concert series in Los Angeles and have appeared as Guest Artists with the world-renowned "AVAZ International Dance Theatre." The Consul General of Argentina has presented Alberto and Loreen on many occasions, and they were featured at World Cup Soccer '94. Alberto and Loreen were chosen by Disney to provide the entertainment at the world premiere spectacular of the film "Evita," and helped to promote Julio Iglesias' album, "Julio is Tango." They have numerous television/film/theatrical/commercial credits as performers and/or choreographers.


In 1997, they were hired by the live events division of the largest Japanese media conglomerate to co-produce, direct and choreograph the biggest budgeted Argentine Tango show ever to go to Tokyo. Included in their credits as choreographers, they have been commissioned by the producers of the off-Broadway hit play "The Stand-In" and twice by Frank Guevara's Dance Theatre of East L.A.


ALBERTO and LOREEN have won the prestigious Feather Award "for the most authentic Argentine Tango couple in America," and their choreography has been twice nominated for the Lester Horton Award. Their RITMO TANGOTM company members, Karlo and Cynthia, performed their choreography on international recording star, 5 time Grammy winner Luis Miguel's 12-city "Romances" tour.


Originally, they trained in Los Angeles with Orlando Paiva and subsequently in Argentina for over ten years with such renowned masters as Antonio Todaro, Pepito Avellaneda, Gustavo Naveira, Alejandro Aquino, Gloria y Eduardo, Miguel y Nelly, Pocho Pizarro, Sergio y Alejandra, Nito y Elba and Susana Miller.